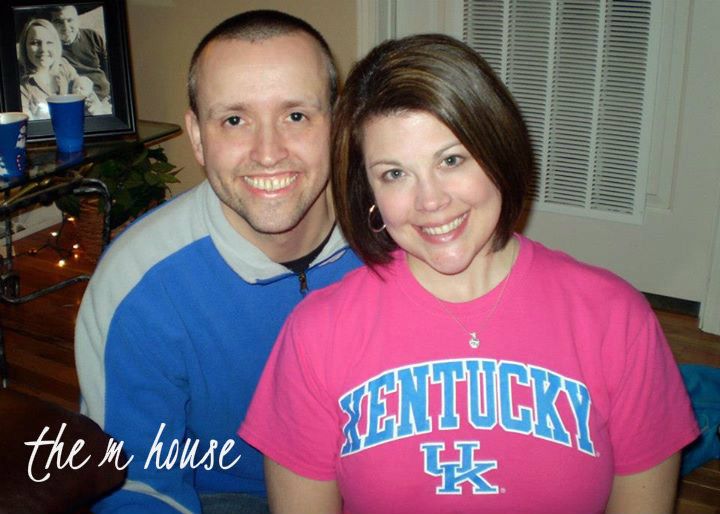 Seven years ago yesterday, we embarked on this crazy thing called marriage. I've read that if you make it to seven years, you're more than likely going to make it. Ha! I've also read that 90% of marriages fail when faced with traumatic events, such as the loss of a child. I'm not sure if that's accurate or not, but I can see where it could be true. Marriage is hard enough, then you throw in the loss of a child and a cancer diagnosis and your odds probably aren't that good. Thankfully, those numbers didn't apply to us. We worked hard and pushed even harder when the going got tough. We made a conscious effort to help each other through those dark days. Now here we are, happier than we've been in years. Sometimes, I catch myself holding my breath, afraid I'm just dreaming. Then a cute little girl grabs a handful of hair and smacks me back to reality. :)
To celebrate, I thought I'd share a funny story. It's our story. So, sit back and enjoy.
Not long after I graduated from college, I ran into my now husband at Wal-Mart (of all places). We went to high school together, but we didn't run in the same circles. He was also a year older than me. However, he was (and still can be at times) a big talker. He cornered me for some reason and chatted me up. I ended up giving him my phone number.
For the next few years, he called me on and off, mainly to say hello. I thought it odd because he never asked me out and he never talked longer than 5 minutes. However, for some strange reason I knew I would marry him someday, despite the fact he was definitely not my type and there was no way I wanted to go out with him at that time. He was too much of a party boy. LOL
Then one day, he finally asked me out. I said yes. I was living in Lexington at the time, which is about an hour's drive from where he lived. I made plans to come home and go out with him.
He stood me up.
After a few phone calls, I found out he had gone to the lake with some buddies and ended up hanging out with some girls they met. Ugh. I was livid. He forgot me! He didn't even apologize! I went home the next day and put him out of my mind.
A month or so later, he called to apologize. He asked me out again. I said yes. It sounded fun. (Don't judge me. LOL) We were going out on his boat to watch the fireworks over the lake. This was always one of my favorite things to do. I met him at the marina only to discover, once again, his buddies were with him. Really? He barely spoke to me all night. I ended up talking to his friends more than I did him. It was awkward. After the fireworks he walked me to my car. I "thought" he was leaning in to kiss me, so I kissed him. Needless to say, he wasn't expecting it. I didn't hear from him for months. Ha!
Two months later, I received an email from him. He asked me out once again and promised it would only be us. I took him up on the offer. Why, I don't know, but something kept telling me he was the one. So, I went.
And that was it. We've been together ever since. Good times and bad. Sickness and health. I guess if it's meant to be, it's meant to be. Of course, I had to wait until he turned 30 before he'd marry me, but that's a story for another time. :)
Now you can read
The M House
on your Kindle! Simply click the link below.