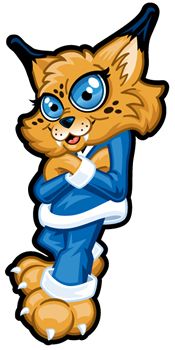 Picture Source: UK Alumni Association
When Shannon graduated with his doctorate last December, he couldn't wait to join the alumni association. One of the benefits of being a member is their legacy program. University of Kentucky alumni may enroll their children in the legacy program, and over the years, the child will receive gifts from the "Kentucky Wildcat," along with invitations to special events. This Saturday we'll be meeting Big Blue Santa for the first time. I'm sure that picture will be hilarious. Insert screaming child here.
But back to my story...
Once we finalized the adoption, Shan had me log into his account and sign Z up as a legacy. It was a simple form. Our names, address, and Z's birthday.
After being sick for a week, I decided to go to work on Tuesday. I made it half a day before going home. I was so sick of being sick and in a foul mood. Before going in the house, I stopped to get the mail. Sitting on top was a bright blue and white postcard with a cartoon Kentucky Wildcat on the front welcoming Z to the legacy program, or so I thought. As I read through the postcard, I noticed the name on the front.
Josey.
Really? Did I honestly fill out that form with Josey's name and not Z's? I was floored. This had to get changed. I threw down the rest of the mail and sat down at my computer. When I logged back into Shannon's account, I couldn't find anything with Josey's name on it. After searching for a few minutes, I gave up and went to bed. I'd deal with it when I felt better and could think straight.
Yesterday's mail brought another package from the KY Wildcat Legacy Program. This time it was addressed to Z. I honestly have no words. Coincidence? A hello from my first born? I don't know.
Crazy, right?