File Size: 614 KB
Print Length: 468 pages
Page Numbers Source ISBN: 1466451033
Welcome to the
Family Magic
Birthday Extravaganza!
Family Magic
, the first book in Patti Larsen's epic 20-book Hayle Coven young adult series, is having its second anniversary–and we're bringing the magic, fun, and awesomeness to this birthday celebration!
Join author Patti Larsen and Badass Marketing for a week of fun, contests, giveaways, never-before-shared deleted scenes, and a kick-ass scavenger hunt that will have you looking for magic in unexpected places!
Get to know the brains behind the series, Patti Larsen! This the first installment of a three-part interview that will be posted throughout the bash!
Tell us a bit about your family.
I grew up with readers and dreamers, a family of creatives. My mother loved romance novels, sewing, can knit anything and is a championship woodcarver. My father raised me on hard-core science fiction and fantasy and served as my Dungeon Master for almost a decade. Both of my sisters are also avid fiction fans, the oldest a successful businesswoman and my middle sister a Bohemian who loves to travel and volunteer in third world countries. I'm married to a workaholic like me, who runs a golf course. Together, we are raising five massive cats.
What is your favorite quality about yourself?
I only say yes to things that make me happy. I learned long ago I was accepting responsibilities that weren't taking me where I wanted to go and saying no to the things that really mattered out of guilt and false obligation.
What is your least favorite quality about yourself?
I'm a chocolate addict. While I love the stuff, it's my nemesis and if I could quit, I would. Maybe. Probably. Snort. Who am I kidding?
What is your favorite quote, by whom, and why?
Trust the Universe. -
Mike Dooley
I have it tattooed on my right foot. Because it is the only thing you need to know. Trust. Then leap.
What are you most proud of accomplishing so far in your life?
Becoming a full-time author who is actually making a living on my books. It's something I've always wanted to do, my very first passion. And I'm finally doing it.
Read parts 2 and 3 of this interview on October 11 and October 14!
About Family Magic
Her mom's a witch. Her dad's a demon. And she just wants to be ordinary.
I batted at the curl of smoke drifting off the tip of my candle and tried not to sneeze. My heavy velvet cloak fell in oppressive, suffocating folds in the closed space of the ceremony chamber, the cowl trapping the annoying bits of puff I missed. I hated the way my eyes burned and teared, an almost constant distraction. Not that I didn't welcome the distraction, to be honest. Anything to take my mind from what went on around me.
Being part of a demon raising is way less exciting than it sounds.
Sydlynn Hayle's life couldn't be more complicated. Trying to please her coven, starting over in a new town, and fending off a bully cheerleader who hates her are just the beginning of her troubles. What to do when delicious football hero Brad Peters--boyfriend of her cheer nemesis--shows interest? If only the darkly yummy witch, Quaid Moromond, didn't make it so difficult for her to focus on fitting in with the normal kids. Add to that her crazy grandmother's constant escapes driving her family to the brink and Syd's between a rock and a coven site. Forced to take on power she doesn't want to protect a coven who blames her for everything, only she can save her family's magic. If her family's distrust doesn't destroy her first.
Find Family Magic on Amazon, Barnes & Noble, and Smashwords. Connect with Patti Larsen on her website, Facebook, and Twitter.
Click Picture Below to Purchase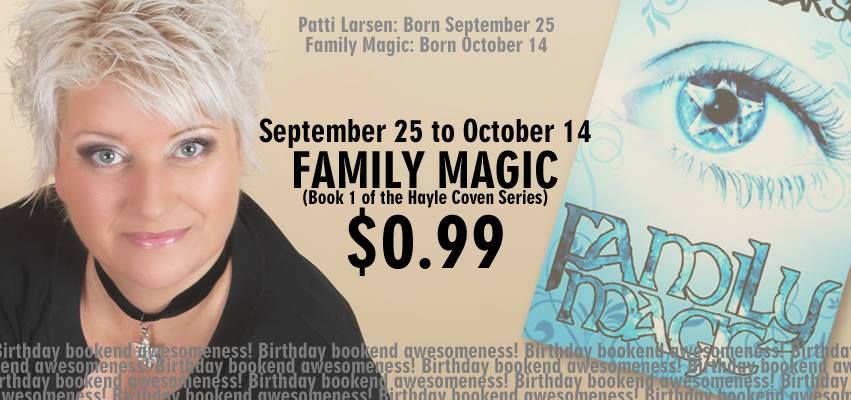 Have you read it? I'd love to hear your thoughts! While you're at it, enter the giveaway below!
a Rafflecopter giveaway