We are closing in on finalizing Z's adoption. As of now, it looks like it may be sometime in October, which means it's time to plan a party! I've already been searching
Pinterest
for ideas.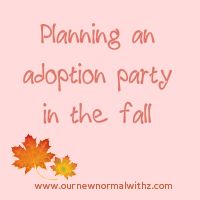 If you've adopted, did you have an adoption party? I'd love to hear all about your parties.
We aren't planning anything over the top, but we do want to make it special. I'm not sure if we'll have the party the night of the final court hearing or if we'll wait until the weekend. Either way, I'm feeling a fall theme with mums and pink and orange pumpkins.
Check out these adorable cake balls I found. It would be so easy to make these as
oreo balls
.
Source: http://www.babylifestyles.com/2012/01/pink-roses-and-orange-pumpkins-first-birthday-party/
I keep going back and forth on the cake. I really like the "happily ever after" cake I've seen all over the web. If you haven't see it, here's a pic.
Source: http://2mommies2be.wordpress.com/2012/04/23/adoption-day/
Of course, I'd want the colors to match our theme - pinks and oranges. Isn't it great? I've already talked with a friend that makes cakes and she said she could do it. **Squeal** :)
I'm leaving my mom in charge of food. We'll either have barbeque and all the fixins (as we southerners say) or lasagna because it's easy to fix and freeze ahead of time.
Another thing I definitely plan to do is have all our guests "leaf a thumbprint" on a thumbprint tree. Thanks to Cyd at
The Sweetest Occasion
for such a great idea!
This is a great way to remember the day. I'm going to frame it and hang it in our picture gallery in the living room as a forever keepsake.
When we lost
Josey
, several people gave us rose bushes. There were so many, that we handed them out to different family members so they could also have something to remember her by. Today, her rose bush is absolutely beautiful. We plan on taking it with us if we ever leave our current house. Anyway, in honor of our second beautiful daughter, I'd like to plant another one, but a different color, just for her. This isn't anything we have to do for the party, but in celebration of her officially joining our family, I think it's a fitting tribute to both our daughters.
If you've adopted, did you have an adoption party? If so, what did you do? I'd love to hear from you!