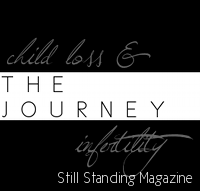 The first Tuesday of every month, Still Standing magazine has asked us to share our heart on where we are in this grief journey, or in our journey towards motherhood. It's always a healing experience for me to read other women's journeys. Being in this club is bittersweet, how we got here is horrible, but the friendships and support are beautiful.
It's been two years, one month and two days since we said goodbye to our daughter, Josey. It still feels like yesterday some days. Other days, it seems as if it was all just a dream. My heart has mended, although quite scarred. I still feel that ache, that tug, that "what if" whenever I see a baby girl. In fact, I've come to terms with the fact I probably always will.
My husband and I made the decision very early on not to let this bring us down. We refused to give up, even on the hardest day. Sometimes that's a lot easier said than done, but we've managed it well. My advice to any couple going through the loss of a child is to talk, talk, and talk some more with your partner. Understand that we all grieve differently and give each other the space to do so.
I'm still holding out for that elusive gift of motherhood. We're in the process of updating our homestudy with our adoption agency. We are now going on one year of waiting. In the mean time, I've lost 36 pounds and cut my blood pressure medication in half. I finally made the decision that preeclampsia would not rule my life. I'm hoping to be completely off the medication by fall. Should I reach my goal weight (I'm close!) and manage to get my bp back to normal, we just may make an appointment with my perinatologist and OB to talk about the possibility of another pregnancy. Right now, it's still just a thought. We'll see how it goes. Until then, I'll just keep bragging on my nephew. :)